Composite Decking By Artificial Style
Enhance your outdoor living space by letting us take care of installing your composite decking and artificial grass lawn in your garden. What sets us apart from other companies is the fact that we deliver high quality garden decking services from designing decks, planning gardens, to constructing and installing decking. We carefully listen to our customers' needs and specifications, and we take time to get to know them to be able to deliver the most suitable lawn or back garden layout for their lifestyle. For instance, if our clients have children who are keen to play around their outdoor space, we suggest a foam inlay under the artificial grass and we also provide child-friendly garden decking.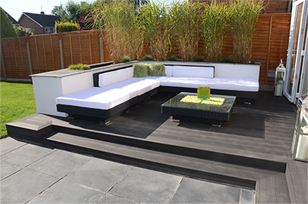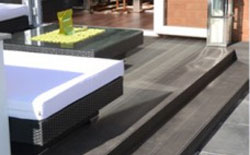 "Imagine Sitting On Your Decking And Feeling part Of Your Garden While Watching Your Children Play On Your Year-Round Lush Lawn."
Thanks to Artificial Style's artificial grass and composite decking installation services, you can now turn this dream into a reality. As a family owned and operated business, Artificial Style takes pride in providing the best garden decking and landscaping services around Poole, Dorset, Hampshire, and Bournemouth.
Reasons to hire Artificial Style for your Garden Decking?
Environmentally-friendly Landscaping Services. We are proud to say that we provide high quality garden decking services and materials in Dorset, Hampshire, Poole, and Bournemouth. Here at Artificial Style, we truly live by our promise to deliver environment-friendly landscaping services and products.
25 year Guarantee with Saige Longlife Decking Materials We are laying decking that is made from highly sustainable materials. Our official composite decking, Saige Longlife Decking, is made from a unique combination of wood fibres and plastic from reclaimed or recycled materials. Compared to wood decking that can last for, at most, ten years, our decking has an expected lifespan of 25 years.
Maintenance-Free Garden Decking & Artificial turf Lawns If you are a family that is too busy to maintain a lawn or back garden, Artificial Style's synthetic turf and garden decking is ideal for you. We assure you that once we create your dream decking and garden, you'll have virtually maintenance-free outdoor living space. The colour and texture of the composite decking that we install has been designed as a long life product. Hence, you don't have to paint, sand, and seal it each year.
Expert in Designing Decks You can rest assured that we, at Artificial Style, are experts in designing decks. If you want to walk straight out of your doors and onto your deck, we can design an attached decking for you, much like a patio. You can also opt for a detached or an island deck if you want to enrich the look of your garden and have a separate area to sit and relax.
Slip-Resistant and Anti-Splinter Composite Decking for Swimming Pool Surrounds
If you have a swimming pool, we can install a decking surrounding it so you can avoid accidents around the area. Our composite decking is slip-resistant and anti-splinter.
Areas We Serve in UK
We offer Services including Composite Decking, garden landscaping, paving, Artificial grass and fake plants supply and installation in all areas of Dorset and Hampshire including Poole, Bournemouth, Ferndown, Christchurch, Salisbury, Ringwood, Blandford and etc.
Read More About Composite Decking